Sacred Drums manufacturing by Nicolas Reznikoff, Kooalia.
Next Drum Making course
For those who are interested, I can offer you in collaboration: A course of approach and accompaniment where you will make your drum by yourself.
To remain a small group, places are limited. Register on the site here. The course takes place in the Morbihan region of Lorient, (access by TGV from Paris and France).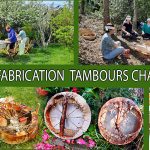 * * *
Algaem
Studio Art – Sculpture & Lutherie
Making of musical instruments – Various sculptures
Manufacture of Drums, Lyres, Jewelry and Shamanic objects.  .
Sound therapy – Animation of manufacturing workshops atelier – Art Therapy.
Nature influences our mood and our well-being, moreover it is the Mother of all that lives. It can be felt as a kind of positive energy. Reconnecting to it is Vital. My objects are intended to facilitate and channel this reconnection in the right direction.
Energy of stones and matter from the Living.
Energy of stones s from the living
The fossils stones bear the imprint of a intense creative energy, beneficial and easily perceptible if you have the heart and the mind.
Why ‽
A few million years ago, the living world was allied to time by turning into stones. This allowed him to travel through the ages on a cosmic and planetary scale, as well as today, and surely well after.
These living beings fossilized its carrier of a very distant time, when the life was in full expansion, on a current of evolution and an impetus of durability.
The fossils come from the French seabed, they are not extracted by degradation of any rock or eroded cliffs.
Beyond the artistic aspect and the nobility of the pieces, it is a good reason to wear these natural stones, proposed here in creations by L'Atelier Algaem.
Projet weft 2018-2022.
Inspiration, balance, emotion, creativity, happiness.
Вдохновение, равновесие, эмоции, творчество, счастье.
Access to the sitemap.xml rss feed