Articles in catalog
Works of art and products or services are available within the limits of available stocks. Availability or unavailability (out of stock) is indicated on the product sheet.
Mostly single art works, there is usually no stock.
It is possible to place a special artistic order out of catalog through the site, by request by email and a deposit may be requested.
The photographs of the catalog are as faithful as possible, but can not ensure a perfect similarity with the product, in particular as regards the colors and the scale, and especially the reflections and the surrounding light that can sometimes change the appearance. Depending on the product, the dimensions and weight are indicated as much as possible in the detailed characteristics section of the article.
The prices
The prices listed are in euros excluding tax. The artist's activity being reduced in terms of amount, the occasional sale is tax free, subject to article 293-B-III of the General Tax Code (FR).
Otherwise, the prices would be increased by a 5.5% VAT tax, applicable to the Sales of an original work by the author artist.
Prices are defined by the Artist, they can be changed at any time.
However a price of article appearing on the site the day of the validation of an order will be the only one applicable to the buyer, expressly for its order of the moment validated containing this article.
Conditions of purchase
The buyer who wants to buy a product must:
Fill in the different screens concerning the purchasing steps:
– Identification or registration on which he will indicate or confirm the details requested in order to ship, deliver or invoice his order
– Global validation (purchase + delivery) of his order after checking it
– Confirm your order to make the payment in the conditions provided.

The payment button on the "Validation" screen is technically accessible only after the step of checking and validating the basket by button "Proceed to checkout" and its delivery.
Legal validation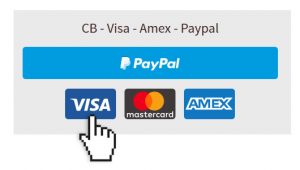 Important note: The action of the button leading to the payment of the order implies the confirmation of the order by these terms and condition of the seller.
The payment buttons are clearly labeled, for example "Pay" or "Pay your order", or "Papal" / "CB etc.
All data provided, the confirmed payment and recorded will be worth proof of the transaction. The confirmation among others of the payment will be worth signature and acceptance of the operations carried out.
The seller will communicate the confirmation of the registered order, and the expedition as soon as possible.
In case of error, everything is possible (within a certain time), thank you to contact the artist by email.
In principle, there is no removal of an object in the workshop.