Description
Your drum will have a guaranteed deep musical resonance.
Our drums are also approved for professional music.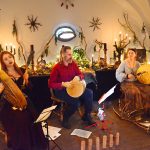 Your drum will welcome your soul, into divine essence, according to your vibrational signature.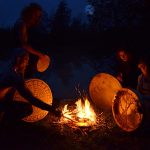 – Unique piece, high-end shamanic drum.
– Depending on your choice when ordering; size between approximately from diameter 41cm to 51cm.
– Manufacturing according to the Siberian or North American tradition.
– Noble and exclusively natural materials: Cedar wood and deer skin, wooden mallet (picked up on the ground).
– The natural commitment: No industrial materials, no metal, no chemical treatment products. The skin comes from an animal raised with respect, in semi-freedom and wild life. No machine tool, no machine cutting of wood, etc.
Accompanied by his mallet.